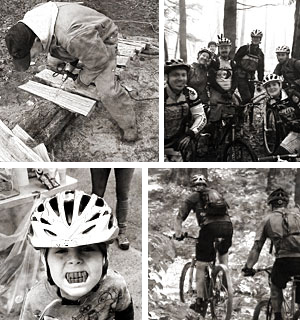 We're just a bunch of everyday people who love to ride our bikes and have chosen to preserve and promote our sport for future generations.
We frequently have group rides for all levels that let you discover some of the best trails in the area and maybe even make new friends and riding buddies along the way.
We also emphasize respect for the trails that we ride through education and involvement. We routinely set up volunteer Trail Days in which members repair, build or maintain trails based on IMBA trail standards to prevent damage to the environment.
If you're into racing, VMB is dedicated to promoting, participating and volunteering at races and bicycle events. We have experienced racers who will be glad to offer advice and help, or more importantly, help you with your skills.
Come join VMB! For the price of a few inner tubes, you can enjoy one year of fun and take pleasure knowing that you're helping the trails and keeping mountain biking a part of the Lehigh Valley.